Great Western Trading Company is a wholesale offering of unique profit making merchandise. Our Neat Stuff consists of collectibles old and new, warehouse finds, hoards, dealer stocks, replicas, fantasies, fabrications, reproductions and Americana from a bygone era.

BEST WESTERN BADGE DEAL
50 Different of our most popular badges. Full sized badges are made of
double die struck solid copper with silverplated antique finish.

CAT HOUSE TOKENS
"Like the ones used in the Old West." 1 1/2" Round solid brass tokens in a
100 piece assortment with antique finish. 20 Different Styles.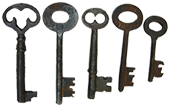 19TH CENTURY KEYS
Assorted iron keys with antique rusted finish.
Many shapes and sizes.
1"-3" Long.
Badges •
Brothel Tokens •
Locks •
Lamps •
Handcuffs •
Keys •
Spurs •
Spittoons


Bugles •
Bottle Openers •
Americana •
Antique Finished Cast Iron •
Neat Stuff
WHOLESALE TO THE TRADE